5 Application Lawn Program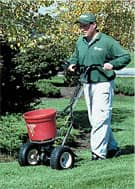 Naturescape® is pleased to offer this Complete Lawn Care Program for you at a super savings. The philosophy at Naturescape® is to offer the highest quality program using the very best fertilizer and weed control products. Our program is guaranteed to your complete satisfaction and our super low prices are less than if you did an equivalent program yourself, plus...we save you time and effort. Naturescape® is 100% committed to making you completely happy with your lawn and our service.
For pricing or to make a purchase, click here and enter your zip code and lawn size.
Our products are applied by certified, licensed specialists. We have been servicing lawns since 1986 and we now have 42 locations around the midwest and south.
What is in the 5 Applications?
1st Application - Spring (Late March/April)
Consists of a well-balanced, complete fertilizer, pre-emergent crabgrass control and broadleaf weed control.
2nd Application - Late Spring (May/June)
Consists of a complete seasonal fertilizer and broadleaf weed control.
3rd Application - Summer (July/August)
Consists of an application of slow release nitrogen, and if weeds are present at the time of application, a spot application of broadleaf weed control as needed. Insect control will be applied as needed.
4th Application - Late Summer (August/September)
Consists of a complete seasonal fertilizer and broadleaf weed control. Insect control will be applied as needed.
5th Application - Fall (October/November)
Consists of a complete seasonal fertilizer that is designed to help develop your root system for the winter and give your lawn a faster green up in the spring.
Free Service Calls (Throughout the season)
If you ever have any concerns about your lawn, we will take care of them free of charge within 72 hours.
6 Steps To A Beautiful Lawn
The following six practices are steps that you can take to further enhance the beauty of your lawn, making it the best it can be.
Maintain 1/2" to 1" of water per week throughout growing season. When watering, water heavily and do it in the morning.


Mow lawn regularly, maintaining a height between 2 1/2" and 3 1/2" for cool season grasses and 1 1/2" and 2 1/2" for warm season grasses (southern locations). Avoid taking more than 1/3 of grass blade at one mowing. Lawn clippings return needed nutrients to the soil, therefore avoid removing after every mowing. Use a well sharpened blade.


Have lawn aerated once a year. Aerate twice a year if your lawn has a heavy thatch layer or the soil is heavy clay. This is the most beneficial practice because it promotes root growth – essential for a healthy lawn.


Control weedy perennial grasses such as coarse fescue and bentgrass by using roundup or by digging them out. Following the first 3 steps will do much to squeeze them out. If you have any questions about these grasses please consult with your lawn specialist.


Minimize damage from shade by thinning trees and shrubs and removing lower branches. Seed with 5 lbs./1000 sq. ft. of red fescue. Try to avoid traffic and in the fall, keep leaves raked.


Please consult your lawn specialist if you see any changes in your lawn or you have any concerns with your lawn or landscape.
The Naturescape® Guarantee
Your Naturescape® specialist is committed to making you happy with our service and your lawn and landscape. If you are not completely satisfied with the results of our services or you have any questions or concerns, please call your area branch office and we will be happy to take care of them free of charge within 72 hours.
At all of our 42 locations
Grow With Us On Facebook